Tripawds is a user-supported community. Thank you for your support!
Hello again, friends! The past couple months have been pretty slow going as Molly recovers from surgery. Her stitches are out and her hair is slowly starting to grow back.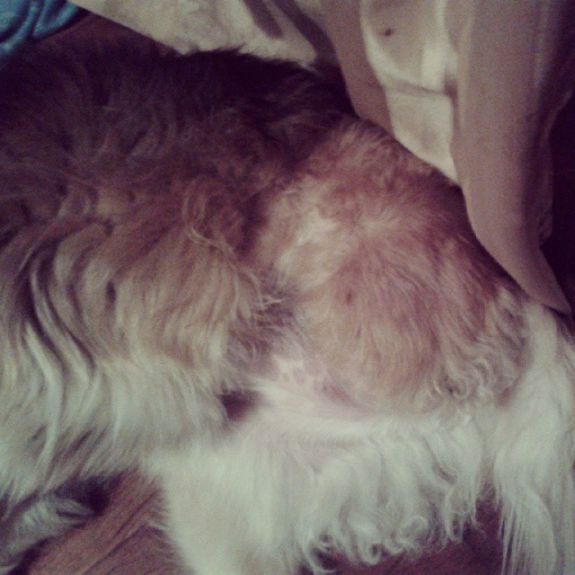 She is able to get around really well, and still has some pep in her step. I couldn't be happier with how she has bounced back from her injury. Her disposition is as sweet as ever. She has us pretty much trained to dote on her every whim. She lets us know when it's time to eat and potty. She has a little bit of a bossy side which makes me chuckle. Her and Percy have continued to bond, before her accident she had the upper hand, but now that she isn't on her feet as much, he can maneuver around her and surprise attack her. I have so much fun watching them play. I need to film it so others can enjoy them.
In the news!
Last month, Molly was featured in Haven of the Ozarks' newsletter! We were so honored that they wanted to share Molly's story.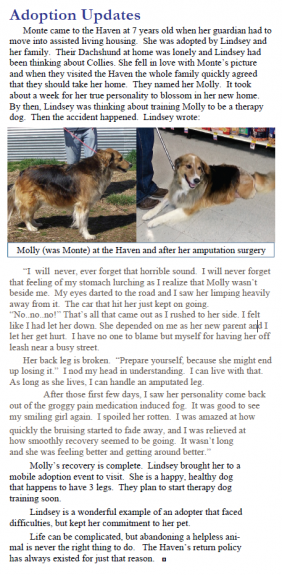 You can read the rest of the newsletter here!
New Video uploaded!
Thanks to the AWESOME Tripawds Nutrition blog, I was able to try a new treat!
Enrolled and ready to learn!
Since Molly is fully healed and back to herself again, I knew it was time to buckle down and continue our journey to become a registered therapy dog. Last weekend I took her to a fall festival and was so proud of how she did around the many children who came to love on her. I know she will be a fantastic therapy and R.E.A.D dog! I am anxious to get her started!
After doing some research, and much to my dismay, I was a day late and a dollar short in getting Molly enrolled into the fall Basic Home Manners classes in the area that I was aware of. I was feeling really down as I was going to have to wait until the beginning of the year. However, a friend of mine who is a therapy dog tester referred me to Rebecca with Green Acres Getaway. Green Acres was still enrolling for their fall class so after a quick phone call, we were enrolled! We start our basic obedience training on October 16th.
My hope is that I can chronicle via photos, videos and blog posts, each of the 6 weeks of training.
I sure hope you can join us on this new chapter!